Team India world cup 2023: India Squad for World Cup: World Cup India Team: There are only a few days left before the Mahakumbh of cricket i.e. Cricket One Day World Cup is over. Then the final team of India for the World Cup has been announced. Cricket fans are eagerly waiting for the World Cup. Meanwhile, the Indian team is currently in tremendous form and India is being considered as a strong contender to win the World Cup.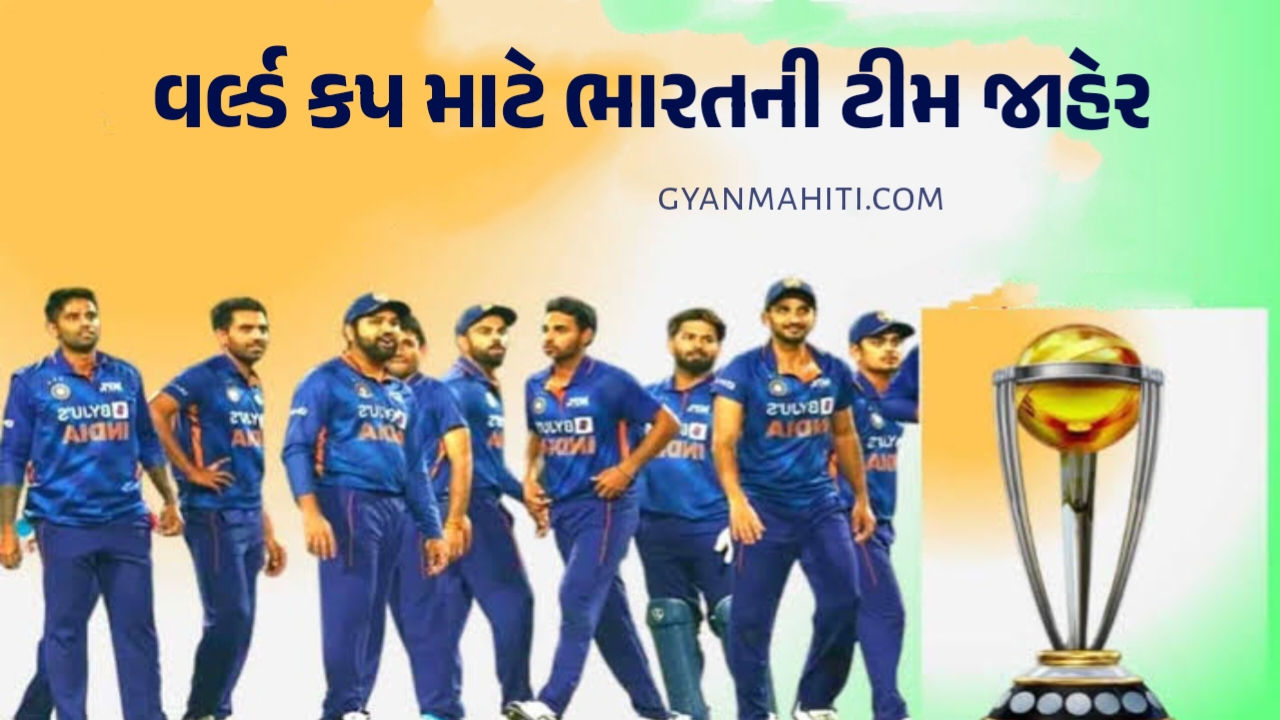 Team India world cup 2023The Cricket Control Ward of India has announced the list of India's final team players for the World Cup. Thus, the BCCI announced a team of 15 players for the World Cup on September 5. And 28th September was the last day to make changes in this team and one change has been made. Injured Akshar Patel has been dropped from the World Cup squad and replaced by all-rounder Ravichandran Ashwin. Ashwin was injured in the match against Bangladesh during the Asia Cup. Because of this, he was not included in the three ODI series against Australia.India Squad for World Cup
Following is India's 15-man squad for the World Cup.
Rohit Sharma (Captain)
Shubman Gill
Virat Kohli
Shreyas Iyer
KL Rahul (Wicketkeeper)
Ishan Kishan (Wicketkeeper)
Hardik Pandya
Suryakumar Yadav
Ravindra Jadeja
Ravichandran Ashwin
Shardul Thakur
Jasprit Bumrah
Mohammed Shami
Mohammad Siraj
Kuldeep Yadav
India match in World CupIndia will play a total of 9 matches in the group stage of the Cricket World Cup. The schedule is as follows.
| | | |
| --- | --- | --- |
| Date | team | the place |
| 8 October | India Vs Australia | Chennai  |
| 11 October | India Vs Afghanistan | Delhi  |
| 14 October | India Vs Pakistan | Ahmedabad  |
| 19 October | India Vs Bangladesh | Pune  |
| 22 October | India Vs New Zealand | Dharamshala  |
| 29 October | India Vs England | Lucknow |
| 2 November | India Vs Netherlands | Mumbai |
| 5 November | India Vs South Africa | Calcutta  |
| 11 November | India Vs Sri Lanka | Bangalore  |
Before the World Cup, all the players of the Indian team are currently in tremendous form. After a resounding victory in the Asia Cup, they captured the series 2-1 against Australia at home. Now Team India has reached Guwahati to play a practice match before the World Cup. Jya 2 will play 2 practice matches 1 match against England and 1 against Netherlands.Important link
ICC Official Website Click here
Who is the captain of the Indian team in the World Cup?Rohit Sharma
When is the match between India and Pakistan in the world cup?
India Pakistan Match Date In world cup 2023
14 October 2023When does the World Cup start?5 October 2023