PM SVANidhi stands for Prime Minister's Street Vendor's Self-sufficient Fund. It is a central sector scheme launched in June 2020. It aims to provide micro-credit facilities to street vendors affected by the Kovid-19 pandemic.
PM Svanidhi Yojana 2023: Government has started a loan scheme (Govt started Loan Scheme For Street Vendors) for PM Svanidhi Yojana, street vendors, lorries or roadside shopkeepers. Its name is PM Svanidhi Yojana In Gujarati . The scheme aims to help street vendors. An amount of 5000 crores has been allocated for this. No special rules have been applied for it.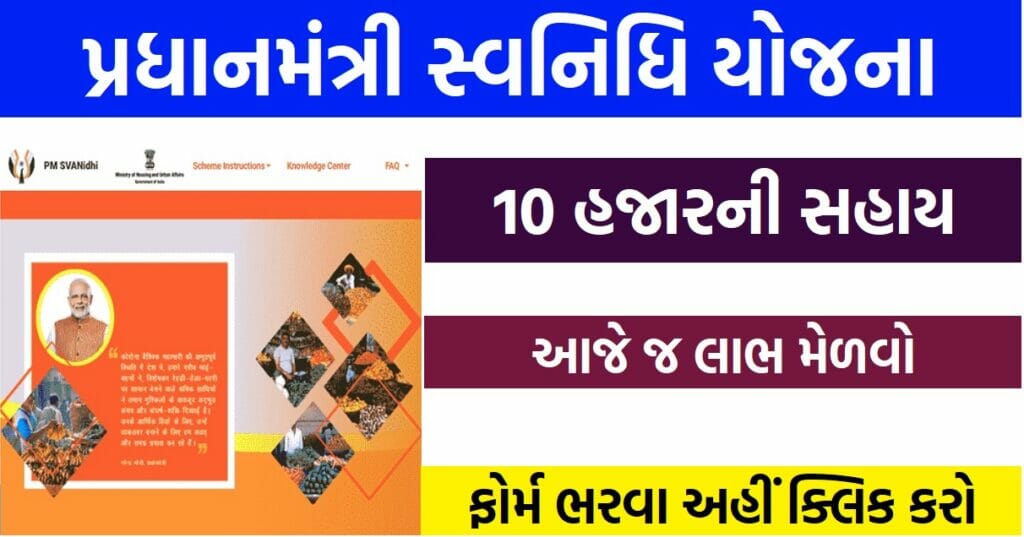 Deadline extended for PM Svanidhi Yojana In Gujarati , know how long you will get guarantee free loan? For this, know who will benefit from this scheme. And how to apply for it. Efforts have been made to reach you with complete information through this article.
PM Svanidhi Yojana 2023
| | |
| --- | --- |
| Name of the post | PM Svanidhi Yojana 2023 |
| Post Category | Government scheme |
| Year of commencement of scheme | 1st June 2020 |
| Beneficiary | Every street vendor |
| objective | The scheme aims to help street vendors |
| Application mode | Online / Offline |
| Official website | pmsvanidhi.mohua.gov.in |
Key Features of PM Swanidhi
This scheme is of central sector
This will provide affordable working capital loans to street vendors who are affected by the novel coronavirus pandemic.
The scheme has been implemented from March 2022.
Sellers Rs. Initial working capital upto will be provided. 10000
The vendor will get interest subsidy at the rate of 7 percent on early or timely repayment of the loan.
A monthly cash-back incentive is provided on digital payments.
Monthly cashback in the range of Rs. 50-100.
If the seller repays the first loan on time, he has a high chance of being eligible for a higher loan.
The seller does not have to provide any collateral security to get the loan.
PM Svanidhi Yojana Objectives- Objectives of PM SVANidhi
To give vendors access to affordable working capital loans that can help them resume their livelihood activities post nationwide lockdown.
Encouraging regular repayment of loans through provisions like cash-back, further loans on subsequent demands etc.
To promote digitalization by rewarding sellers who opt for DIGITAL LOAN repayment option.
Lending institutions under PM Svanidhi Yojana
Scheduled Commercial Banks
Regional Rural Banks
Cooperative Banks
Non-Banking Financial Companies
Micro-finance institutions
Self Help Groups (SHG) Banks
Eligibility of States/UTs:
The scheme is available only to the beneficiaries of those states/UTs which have notified the rules and scheme under the Street Vendors (Protection of Livelihood and Regulation of Street Vending) Act, 2014.
Beneficiaries of Meghalaya, which has its own state Street Vendors Act, can still participate.
Implementation partner
Small Industries Development Bank of India (SIDBI) will be the implementing partner of the Ministry of Housing and Urban Affairs for the administration of the scheme.
SIDBI will leverage its network of lending institutions including SCBs, RRBs, SFBs, cooperative banks, NBFCs and MFIs for implementation of the scheme.
What is the eligibility criteria for PM Svanidhi Yojana?
Before opting for PM Svanidhi Yojana online enrollment, it is advisable to check the following eligibility factors.
Vendors holding valid identity cards issued by vending or Urban Local Bodies (ULBs) are eligible under the scheme.
If a person fails to produce a vending certificate and plans to avail a street vendor loan, he can consider getting a letter of recommendation (LoR) from the municipalities.
Additionally, vendors residing and active in and around peri-urban or rural areas can also fulfill the eligibility requirement by submitting a similar letter.
ULB verified vendors who have left their working area due to pandemic are also eligible under SVANidhi.
The Town Vending Committee (TVC) conducted a survey as per the Street Vendors Act, 2014 before giving them the certificate. For that, vendors who have not obtained the certificate but are recognized by the TVC are issued a provisional certificate of vending. These individuals may also be eligible for the Street Vendors Loan Scheme.
Apart from fulfilling the eligibility of PM Svanidhi Yojana scheme, the beneficiaries can also consider to know about the application process.
How to apply for loan under PM Svanidhi Yojana?
Before the beneficiaries apply online for the Street Vendors Loan Scheme, they may want to consider some pre-application steps such as the following –
Understanding the Need for PM Street Vendor Loan Application
Ensuring that the registered mobile number is linked with Aadhaar.
Checking eligibility status as per scheme rules.
Once done, one can proceed to online registration of SVANidhi scheme by following the steps mentioned below.
Steps for Online Registration of PM Swanidhi Yojana
By following these steps, you can successfully enroll yourself under PM SVA scheme.
Required Documents for PM Swanidhi Yojana
Certificate of Vending or Identity Card issued by ULB or TVC or LoR from ULBs.
Sellers may also be required to submit any one of the following documents –

aadhar card
Voter Identity Card
MGNREGA Card
Permission to drive
PAN card
Who are the target beneficiaries of PN Swanidhi Yojana?

Street vendors operating on or before 24 March 2020 in urban areas, including those in and around peri-urban and rural areas, are the target beneficiaries of the PM Street Vendor Scheme scheme.

Is there any penalty for prepayment of working capital loan under Pradhan Mantri Street Vendor Atma Dependent Nidhi Yojana?

No, there is no penalty for prepayment of loan before the stipulated date under this scheme .