PM Modi will address the country again at 8 pm tonight.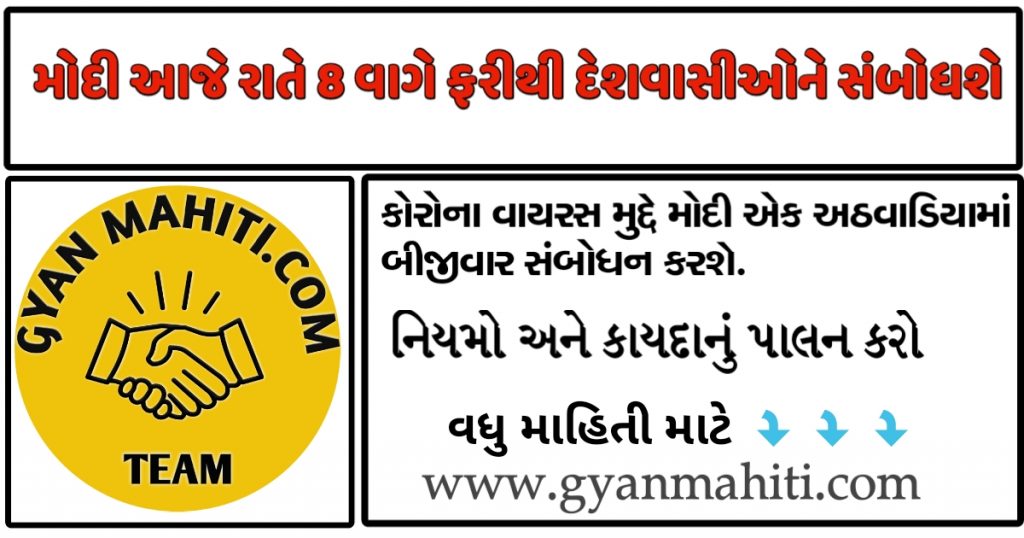 PM Modi will address the country at 8 pm tonight for the second time in a week on the Corona virus issue. In this regard, PM Modi tweeted that he would share with the country some important stories about the growing outbreak of the global epidemic corona virus. Earlier, PM Modi appealed to the countrymen and said that people should take the lockdown seriously and protect their families. Prime Minister Narendra Modi also recommended to the state governments that they should strictly follow its rules and regulations there.
Prime Minister Narendra Modi wrote in his tweet on the status of lockdown on March 23 that people still do not take the lockdown seriously.
Please protect yourself. Save your family, follow the instructions seriously. It is my appeal to the state governments to abide by the rules and regulations.
It is reported that due to the increasing cases of corona virus, there is lockdown in more than 10 states of the country including Delhi, Uttar Pradesh, Rajasthan. Gujarat has lockdown of important cities like Ahmedabad, Vadodara, Surat, Rajkot, Gandhinagar. On Sunday, the people kept the peace but on Monday, people were seen gathering. The Delhi-Noida Express Highway was jammed on Monday. This is followed by Prime Minister Narendra Modi's tweet.
After the lockdown in Vadodara, markets opened
Vadodara also saw markets open after lockdown. Shops opened in most areas, people left on the streets. The municipal commissioner has spoken to the police commissioner. According to the information received, action has been taken to remove people from the road and close the markets.