PM kisan 13th Installment: Farmers are called food givers, due to which human life is sustained. The government implements many schemes for the farmers and the farmers of the country get a lot of benefits from it. And they develop economically and socially and in all spheres. Today we have one such scheme " PM kisan 13th Installment How to Check 2023 " means farmers are going to get information about how they can check their 13th installment in PM Kisan Scheme. Under this scheme the government is going to give the 13th installment amount soon. . The 13th installment will be credited on February 27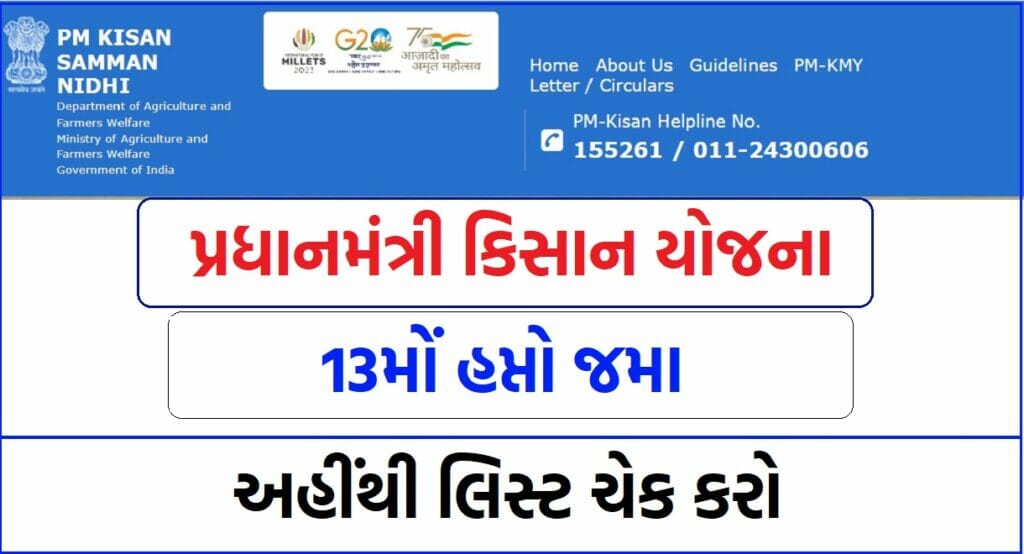 PM kisan 13th Installment 2023
| | |
| --- | --- |
| Name of the scheme | Pradhan Mantri Kisan Yojana 2023 |
| assistance | 2000/- per annum with an annual allowance of 6000/- per annum |
| State | All states of the country |
| Beneficiary | Farmers of the country |
| several installments | 13th installment |
The 13th installment will be credited on 27 February
Through the Pradhan Mantri Kisan Samman Nidhi Yojana (PM Kisan 13th Installment 2023), an amount of six thousand rupees is given to crores of farmers every year. 2000 rupees are sent to farmers' bank accounts every four months. So far 12 installments have been transferred to farmers' accounts, while the 13th installment is eagerly awaited. PM kisan 13th Installment , now big updates are coming out regarding this installment. The 13th installment will be credited on 27 February
Check here whether the name is in the list or not
First of all go to the official website of Pradhan Mantri Kisan Samman Nidhi Yojana pmkisan.gov.in .
Click here on Farmers Corner and doing so will open a new page.
Here select the PMKSNY Beneficiary List option and now the form will open. In this first select the state name, then district, block and village.
After filling all the requested information, click on Get Report and after doing so, the list of PM Kisan Yojana beneficiaries of your village will open in front of you.
By looking at this list, you will know whether your name is among the beneficiary farmers or not.
Check PM KISAN 13th Semester Status
13th installment status can be checked like this.
Step 1 : First of all visit pmkisan.gov.in website.
Step 2 : Then click on 'Beneficiary Status' given in 'farmers corner' on homepage.
Step 3 : Then enter the registered Aadhaar number or bank account number.
Step 4: Then click on 'Get Data'.
Step 5: Now you will see the status of the installment credited to your account on the screen.
Farmers who have not yet completed the eKYC process will not get the 13th installment.
How to update PM KISAN KYC online?
Mandatory Aadhaar KYC is required to avail the benefits of PM Kisan Yojana. How to do Aadhaar KYC is given here. Note that the beneficiary who has not done KYC will not get the 13th installment
Step 1: Visit the official website of PM Kisan and click on KYC option.
Step 2: Now enter the Aadhaar card number, enter the captcha code and the mobile number that is linked with the Aadhaar card.
Step 3: Enter the OTP after receiving it. Then the KYC verification will be completed easily.
Special Note:Mobile number in your Aadhaar card must be updated. If mobile number is not updated in Aadhaar card then OTP will not come on your number.
Frequently Asked Questions FAQs
PM Kisan Yojana PM Kisan 13th Installment How many rupees installment is given?

Under this scheme, an installment of Rs 2,000/- is given to the beneficiary farmers every three months.

What is e-KYC in PM Kisan Yojana?

PM Kisan Yojana e-KYC means verifying the Aadhaar card of the beneficiary.

Which website is there to see all the information of PM Kisan Yojana and status of all installments?

For all the information about this scheme you can go to www.pmkisan.gov.in and get all the information.