General Administration Department (Personnel Division), Govt. of Gujarat announced Public Holidays List 2023 yesterday.The Government also directs that Public Holidays to the Industrial Establishment and Public Undertakings under the control of the State Government, the workmen engaged in Public Works Departments and Educational Institutions in this State.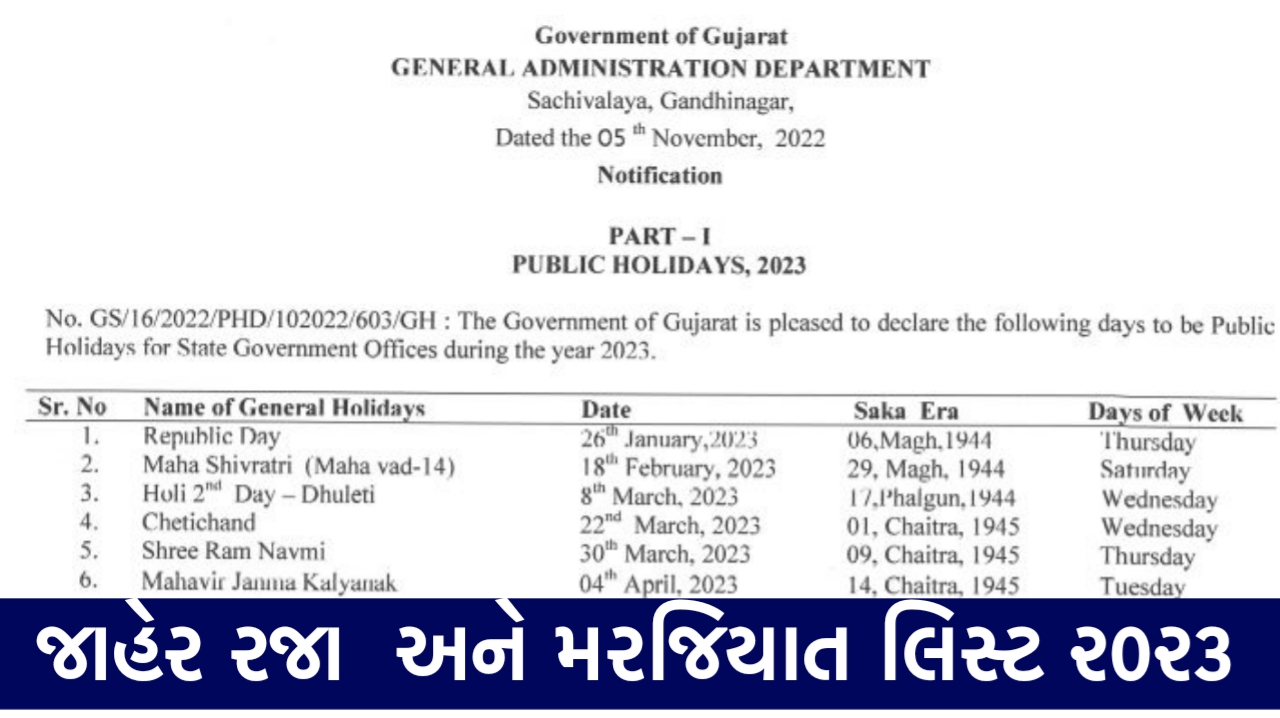 Public Holidays List 2023 Gujarat GAD Notification 
26 Jan Thu Republic Day
18 Feb Sat Maha Shivaratri
8 Mar Wed Holi
22 Mar Wed Ugadi
30 Mar Thu Ram Navami
4 Apr Tue Mahavir Jayanti
7 Apr Fri Good Friday
14 Apr Fri Dr Ambedkar Jayanti
22 Apr Sat Idul Fitr
22 Apr Sat Maharshi Parasuram Jayanti
29 Jun Thu Bakrid / Eid al Adha
29 Jul Sat Muharram
15 Aug Tue Independence Day
16 Aug Wed Parsi New Year
31 Aug Thu Raksha Bandhan
7 Sep Thu Janmashtami
19 Sep Tue Ganesh Chaturthi
28 Sep Thu Eid e Milad
2 Oct Mon Gandhi Jayanti
24 Oct Tue Vijaya Dashami
31 Oct Tue Sardar Vallabhbhai Patel Jayanti
12 Nov Sun Diwali
13 Nov Mon Vikram Samvat New Year
15 Nov Wed Bhai Dooj
27 Nov Mon Guru Nanak Jayanti
25 Dec Mon Christmas Day
Just as an ayurvedic medicine is taken mixed with honey and milk, vocational courses as well as practical knowledge should be imparted.  If this is done, the medicine will not get hot and it will have the right effect!  Education must be imparted as much as is necessary for the development of the individual, for the social upliftment and for taking the country on the path of progress.  People should achieve higher degrees.  There is nothing wrong with that.  Teachers engaged in this can also get adequate salary.  This education is necessary for the economic development of the family and for raising the social level.  Teachers have to develop their personality by providing a competitive environment to the students but Alas!  At present, this type of education has become obsolete.  Schools and colleges have become a 'business'.  Discipline can be said to be the main organ of this type of education.
Important Links::