વોટ્સએપ ગ્રુપમાં જોડાવ
ક્લિક કરો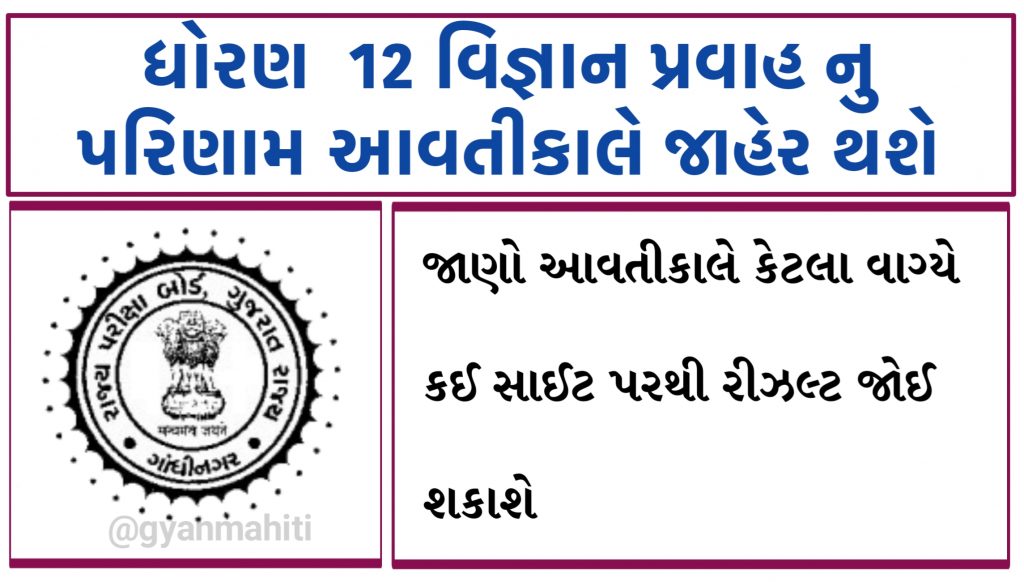 GSEB HSC Result 2020 – Gujarat Secondary and Higher Secondary Education Board (GSEB) is going to declare GSEB HSC result on 17 May 2020 at around 8 AM. The board is first releasing the result for Science treat. For General stream, GSEB HSC result will be announced later on. The result can be checked by the students online at gseb.org. To check it, students need their 6-digit seat number. Students need a minimum of 33% marks to pass the exam. Check more details on GSEB HSC result 2020 from this page.
GSEB HSC Result 2020
ujarat 12th Science Result Date 2020
The exams dates for Gujarat board 12th Science exams have been published. But the major question that is in everybody's mind is when the GSEB 12th Science Result will be announced. The students and officials alike are endeavouring to derive the plausible date of Gujarat Board 12th Result based on accessible data. Expert opinion suggests that the Gujarat 12th Science result 2020 will be declared by the second week of May and considering that the Gujarat HSC 12th Science Result was announced on May 9, last year, it seems plausible.
State
Exam Name
Exam Date
Exam Result Date (2020)
Gujarat
Gujarat SSC Board Exam
5th March- 17th March
21st May 2020
Gujarat HSC Board Exam – Science
5th March- 21st March
9th May 2020
Gujarat HSC Board Exam – General Stream
5th March- 16th March
23rd May 2020
*Tentative Dates
However, the GSEB is yet to announce the confirmed date for the Gujarat HSC 12th Science 2020 result. Until then, the students can bookmark this page and revisit it from time to time to get all important news and updates about the GSEB 12th Result. Another choice to get these updates would be through an email. For this, you can provide your email id and mobile number in the form given above and start receiving these updates directly in your inbox.
ujarat 12th Science Result – Previous Year Statistics
Awaiting the Gujarat 12th Science result 2020 can be quite stressful for the students. To ease the anxiety, JagranJosh brings here are the statistics of the previous year's result. The data of previous year Gujarat 12th Science Result will help you in understanding the competition and determine if the performance of the students has enhanced over the years or not. These statistics will also help the students in analysing their position in the result of 2020.
We are giving the total scores of the GSEB 12th Science Result underneath, so students can get a thought of their likely scores. It ought to be remembered that the individual scores will rely upon how they have fared in the separate examination papers.
GSEB HSC Science Result 2019- Key Highlights
Overall Pass Percentage: 71.90%
Total Number of Regular Appeared Students: 1,23,860
Pass Percentage of Male Students: 71.83%
Pass Percentage of Female students: 72.01%
Best Performing District: Rajkot with 84.47%
Worst Performing District: Chota Udaipur with 29.81%
Number of Schools with 100% success ratio: 35
Pass Percentage of Group A Students: 78.92 %
Pass Percentage of Group B Students: 67.26 %
Pass Percentage of Group AB: 64.29 %
Number of Registered Students:
Regular Students: 1,24,694
Number of Girls: 48,691
Number of Boys: 76,003
Number of Appeared Students:
Regular Students: 1,23,860
Number of Girls: 48,414
Number of Boys: 75,446
Number of Passed Students:
Regular students: 89,060
Number of Girls: 34,865
Number of Boys: 54,195
As per the statistics in the table, the Gujarat Board, as well as the students realise that there is a vast scope for improvement. Hopefully, the students will put up a better show this year beating the record of the last year's Gujarat 12th Science Result.
Where to Check GSEB 12th Science Result 2020?
After the official declaration of GSEB 12th Science Result 2020, the same would be made available online on Jagranjosh.com. Along with this, the students will also have the option to check their Gujarat 12th Science Result online on the official website i.e. gseb.org. It has been observed from the past experiences that the official website tends to slow down which infuriates the students who have been waiting for their GSEB 12th Science Result for long. On this page, the GSEB HSC Result 2020 would be available for download on GSEB HSC 2020 Result day. We have made provisions to provide the GSEB HSC Result 2020 in a seamless manner irrespective of the large number of users.
How to Check Gujarat 12th Science Result 2020?
To check Gujarat Board 12th Science Result 2020, you need to click on the link provided below or alternatively, you can scroll to the top of the page to view GSEB HSC Result 2020. The students will be required to fill in the small form with the requisite information in order to get their respective GSEB HSC Result 2020 scores.
Click on gujarat12.jagranjosh.com or navigate to the top of the page
Enter the requisite details in the form provided
Verify the entered credentials and submit the information by clicking on the submit button
View and download the GSEB 12th Science Result 2020
How To Check GSEB HSC Science 2020
Gujarat HSC Science (class 12th) result releases at the login. Thus, to check it students need to follow certain steps as given below.
1st Step- Firstly, click on the link of the GSEB HSC Science result  2020 available on this page. Or visit its official website.
2nd Step- As you click on the link a new window opens on your screen.
3rd Step- Here you need to login by entering your 7 digit seat number in the space provided.
4th Step- After this click on the submit button.
5th Step- Now, your GSEB HSC Science Result 2020 will appear on the screen.
6th Step- Check your result carefully and download it for future reference.