Central Government Announces Guidelines for Agriculture, Preparation / Lockdown 2.0
The government on Wednesday announced a new guideline on lockdown that extends to May 3 due to the Corona virus. According to this guide, all industries that make food and drink will be open. In addition, it has been instructed to open all factories in rural India. According to the new guidelines, MGNREGA works have also been allowed, as well as irrigation and irrigation should be given priority.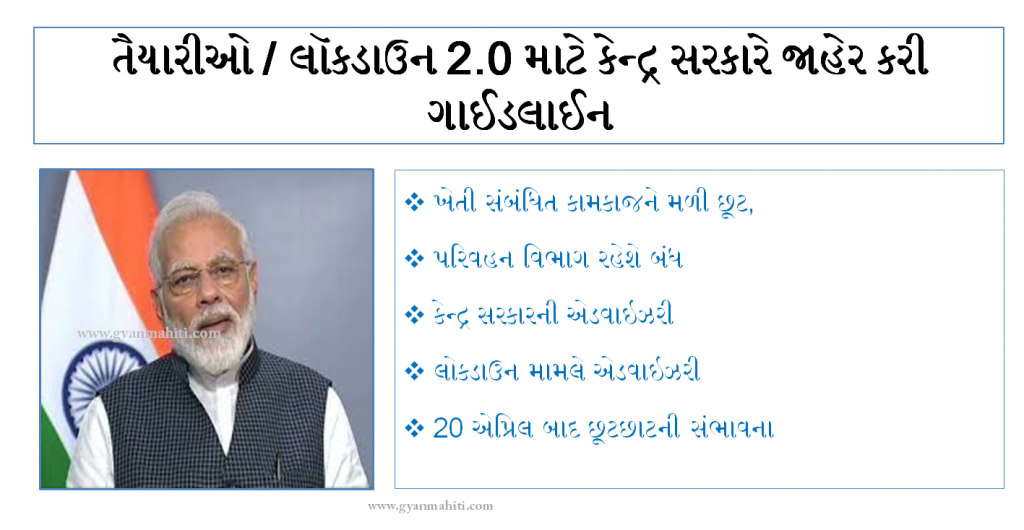 Central Government Advisory
Advisory on lockdown
The possibility of concession after April 20
This sector will continue
The Health Service will continue.
All facilities connected with farming will continue.
Farmers and agricultural laborers will be exempted from the work associated with harvesting.
Agricultural equipment shops, repairing and spare parts shops will continue.
Production and distribution of food, seeds, pesticides will continue. These types of shops will continue.
The machines connected to the harvest and the traffic from one state to another will not be blocked.
The activities and transport associated with livestock farming will continue.
Things related to fish farming and transport will continue.
The milk and its production plants and their supply will continue.
All supplies connected with cattle fodder and raw material will continue.
Road work and construction will be exempted.
The bank, the ATM will be operational again.
Online Teaching and Distance Learning will be encouraged.
Social distancing will be strictly adhered to in MNREGA's work and that work has been exempted.
Irrigation and water conservation work has been prioritized in MNREGA.
In the event of an emergency, a person may be able to leave in the Four Wheeler except the driver.
On two-wheeled vehicles, a person can be a driver and there will be penalties for breaking the rule.
If a person is quarantined and violates the rule, prosecution will be taken pursuant to Article 188 of the IPES.
The operation of the oil and gas sector will continue. Along with this, the operation of retail will continue along with transport, distribution and storage.
Production of pharma-essential goods approved.
Approval of food processing in rural areas.
Electrician, IT repair, plumber, carpentry allowed.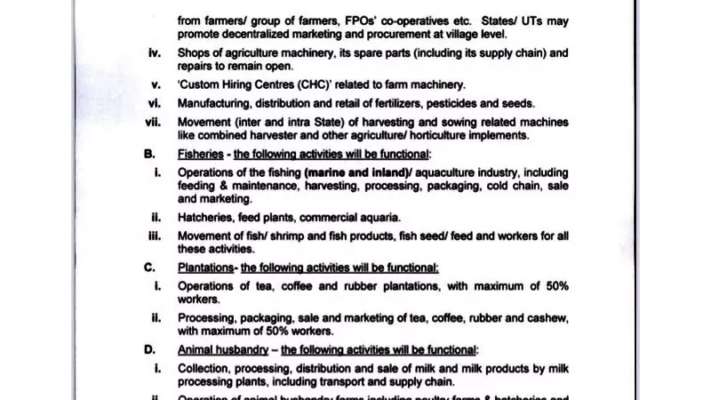 No marriage, Jim will be off
The government guidelines provide instructions for keeping all wedding ceremonies and religious places and gyms. Also ban political and sporting events. In addition, it is mandatory to wear a mask. Homemade masks, scarves and scarves can also be used.
The sector will remain closed
It has been said that there will be a complete ban on transport at the present time. The borders of the states will also remain sealed. That is, buses, metro, air and train cannot travel. Apart from this, schools, coaching centers will also be closed. The government has said that agriculture related work will be exempted. Cinema Hall, shopping center has been banned forever. Schools, colleges, factories will be closed.
This will be fine for the talk
Penalty for spitting and punishment for breaking lockdown rule
People will have to wear masks compulsorily, not fine on wearing them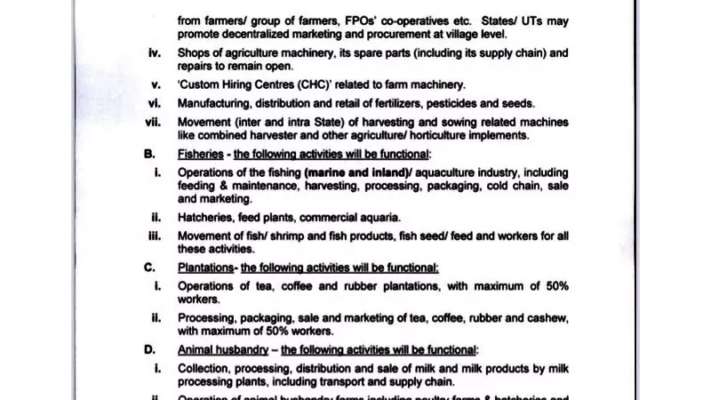 Agriculture related work will continue
All activities related to farming will continue, farmers and farm workers will be allowed to work on the harvest. Agricultural equipment shops, repairs and spare parts shops will be open. Manufacturing and distribution activities of fertilizers, seeds, pesticides will continue, their shops will be open. There will be no restriction on speed of machine cutting from one state to another.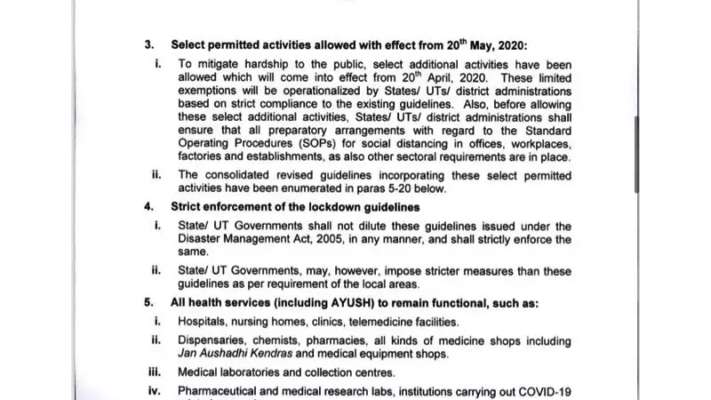 Gujarat government's decision for farmers to be extended downward
Bollywood Khan asked if lockdown increased, PM Modi did not tell you that without money …
In Gujarat, people have done this by taking hydroxychloroquine drug that the government has to give